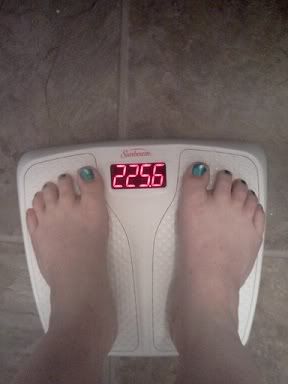 I did not want to post that pic this morning.  It's hard owning up to failing.  I'm pretty much back where I was at 2 weeks ago.  It's my own fault.  I knew I was going to gain weight last weekend with our trip.  You would think I would have worked even harder this week to work it off.  Instead, I let myself slide even farther down the slippery slope.  Hopefully, I can pick myself up and try again.  I was researching Curves last night.  There is a location, about a 6 minute drive from my house.  I don't mind paying for it, but my question would be if I could find the time in the evenings to actually go.  I already feel like there isn't enough time in the day for me, I don't know how I would fit it  into my day as well.  They are only open until 7pm and closed on Sundays, so that's not the most convenient.  I just need to find something that will work.
Updated because I uploaded the wrong pic.
Also, I did this workout this morning: http://www.youtube.com/watch?v=ndVjwkaLGDk     I like it because it is easy to do at home.  However, its hard trying to move around the livingroom with a 3 year old and 1 1/2 year old running around you getting in the way.   They thought I was dancing and playing.  I'll probably have to move workout time to the evenings when Jamie is home to watch them.